Andara Crystal Oracle Cards

YaMaEL is the Co-Author of these amazing LIMITED EDITION Andara Oracle Cards along with Erica Rock. Imagine having a Deck of beautiful professionally photographed Andara crystal cards that transmit the Andara Crystals powerful energy directly through the photos. 
INTRODUCING ...
Andara Oracle Cards for Spiritual Awakening & Enlightenment!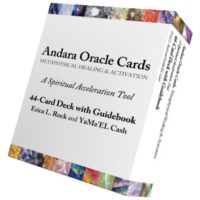 These LIMITED EDITION Andara Oracle Cards are beautifully illustrated Divination & Activation Cards. They reveal the true meaning behind 44 different Andara Crystals that can be used to receive daily messages, fresh perspectives and insights into one's life. You can also use them for doing readings for others. Since the energy of the Andara crystals comes through the photographs, you can use the cards just like you would a physical Andara Crystal; to gaze at and receive the activation.
Andara Oracle Cards are used for meditation, contemplation and spiritual awakening. You can also lay them on or around your body or to perform absentee healing and activation on another. There are no rules with this dynamic deck and the uses are virtually limitless. Allow the Andara to inspire you as to how they can be used.
Monatomic Andara Crystals are powerful, transformative newly discovered "crystals" who are here at this time to assist with the shift and mass awakening that is happening on our planet.
In this set of 44 oracle cards, you will learn about each species of Andara, the message they have for you and how they can assist you on your life's journey. Each card gives you a specific message about how you can improve your life, health, relationships, finances and spiritual path. The energy and essence of the Andara come powerfully through the pictures on each card, gifting you with an activation.
On one side is a picture of an Andara with an accompanying message for you to contemplate and meditate on, while the other side of the card is a magnified version of the very same Andara to be used as a gateway to the stone's core essence. This allows you to receive the many benefits that the Andara Crystals have to offer you.
* This Powerful Oracle Card Deck Includes an Andara Crystal Guidebook with specific details for using them and the metaphysical energetic properties of each Andara Crystal.  
Place your order now for yourself, friends and family while supplies last! This is a LIMITED EDITION and when they are gone, they are GONE FOREVER. These long awaited decks are going FAST and the holidays are right around the corner!! Andara Oracle Cards make PERFECT HOLIDAY GIFTS as they are gifts that keep on giving and healing and assisting all year long!!
ATTENTION! 
If you are interested in purchasing MORE than 3 decks of Andara Oracle Cards, Please STOP here
and head to our main website for wholesale prices to accommodate you at the link below!
Otherwise choose the quantity you want (1-3 decks) and
click the order button below to proceed with your order! 

WATCH THE VIDEOS BELOW ABOUT ANDARA CRYSTALS AND HOW TO USE THE ANDARA ORACLE CARDS
Andara Crystal and Oracle Cards HOW TO Videos
This first video is a short tutorial by Erica Rock about the Andara Oracle Cards that will show you how to use these powerful cards. The Oracle Cards come with a Guidebook is really helpful, but I know some people prefer to learn via video, so here is our first one. ENJOY ~
Namaste' YaMaEL